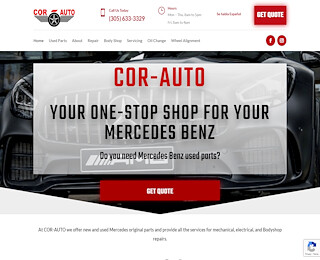 Traditionally, junkyards were cemeteries for scraps, auto parts, and other consumer products. These places did not have a lot of value, besides offering pieces that would have victorious resurrection for an afterlife in another car. A lot of people did not buy used car parts from junkyards.
Junkyards, however, had an essential role during the first and second world wars. The metal was in high demand, for the manufacture of weaponry. The 80s saw a rapid rise in the recycle of junkyard household items. Presently, the world recycles about 30 percent of all its trash, in one year.
Cor-Auto entered the junkyard business with an endearing love for maintaining the integrity of German cars. The company is under the ownership and management of a family with strong European roots. Since the firm's establishment, they have proven useful to fans of Mercedes Benz in the following ways:
What you will get from Cor Auto's Mercedes Benz junkyard
A passion for ensuring that car parts and refurbished cars have high quality.
Technology to inspect and maintain car parts in the best form
Specialized servicing by technicians who understand the Mercedes brand
A body shop
Apart from the above principles that make up our business' model of operation, we maintain the mesmeric value of a junkyard. Every single non-functioning car will help more than one client to revive their vehicle. Customers looking for used parts will have more excellent luck in maintaining their car's quality by purchasing from a Mercedes Benz junkyard.
Valuable junkyard finds from Cor-Auto
GPS
Mercedes Benz has a competent GPS. The COMAND system gives extra functionalities of audio, telematics, and telecommunications. It centralizes the GPS, DVD player, CD player, radio, amplifier, and other features. The GPS regulates speed using the cruise control system. You must get an original GPS for your car, to maintain top-notch performance.
Rims
Fitting rims are great for maintaining good rolling and preventing excessive wear. Working with a junkyard store to find an exact fit will serve you better than trying the unoriginal rims from third-party sellers. Our rim stocks maintain quality and design, which will complement your car's look and steadiness on the road.
Mirrors
One would not think that replacing mirrors is expensive. Mercedes Benz mirrors can be pricey when you consider their functionality. They fold in or out using a button on the driver's dashboard. They also dim according to the ambiance of the light from traffic behind the car. This setup means that original mirrors will make your night drive safe.
Make sure that you have authentic mirrors that get suitable fittings with the skills of a professional Mercedes technician. Used mirrors are just as functional as new mirrors, but for half of the price.
Power locks
Our Mercedes Benz junkyard will not sell you locks with worn-out solenoids or switches. New power locks are pricey and may discourage you from making a purchase. Cor-Auto will give you quality replacements, trustworthy repairs, and a warranty on the parts when you book repair service with us.
We welcome your comments!
Location
4723 NW 37th Ave, Miami, FL 33142, USA.
Email
info@www.cor-auto.com
Open Hours
Mon: 8am - 5pm
Tue: 8am - 5pm
Wed: 8am - 5pm
Thur: 8am - 5pm
Fri: 8am - 4pm
Sat: Closed
Sun: Closed