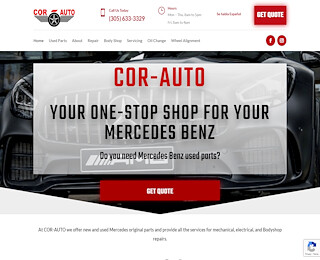 Mercedes Benz is one of the most well-known and popular cars on the market. When you purchase a Mercedes, you can expect to cruise in style and make other drivers envious of your ride. One of the best things about this model vehicle is that they are known to last the test of time because they are made with the highest quality craftsmanship. However, just like anything that is mechanical, Mercedes vehicles can break down from time to time. When it comes to finding parts for your Mercedes, you do not have to search any farther than Cor Auto. We are Mercedes Benz experts who specialize in auto body repair, parts, and preowned sales. You can count on us to provide you with precise services that will not cost you an arm and a leg.
Quality Mercedes Benz Used Auto Parts
Sometimes, it is not always necessary to buy parts for your Mercedes Benz that are brand new. Buying used parts is a viable option that can ultimately help you save money. At Cor Auto, we only offer top of the line used parts that you can depend on for quality performance. It is our personal mission to ensure that you are completely satisfied with the services that we provide. Our independent family owned business is dedicated to providing the best possible customer service and care. Not only can you expect the best services, but you can also expect some of the most competitive prices in the local area. All Mercedes Benz used auto parts that we sell are cleaned and have a warranty included.
Five Hundred Thousand Affordable Used Mercedes Benz Parts for Immediate Delivery
Instead of waiting days or even weeks for parts to be shipped, you can expect our team at Cor Auto to have the parts you need in stock. We have over five hundred thousand affordable used Mercedes Benz parts that are available for immediate delivery. At Cor Auto, we offer ten percent off of your first purchase on used parts. All used parts we sell are backed with a six month warranty. Our team will happily provide you with a free quote for any Mercedes Benz parts that you may need. An extended warranty on parts is available for an extra fee, and we provide an easy return process. From transmissions to engines to cooling fans, you will find all of the replacement parts you need at Cor Auto. Let our team cater to your individual needs; no matter what they may be.
Reach Out Today for More Detailed Information Regarding Our Services
We strongly encourage you to reach out to our staff today to learn more detailed information about the services that we can provide to you. Our commitment to quality is a force to be reckoned with, and our professional staff will go above and beyond to lend a helping hand. Count on us at Cor Auto for all of your Mercedes Benz used parts purchases. Our staff looks forward to hearing from you!
We welcome your comments!
Location
4723 NW 37th Ave, Miami, FL 33142, USA.
Email
info@www.cor-auto.com
Open Hours
Mon: 8am - 5pm
Tue: 8am - 5pm
Wed: 8am - 5pm
Thur: 8am - 5pm
Fri: 8am - 4pm
Sat: Closed
Sun: Closed