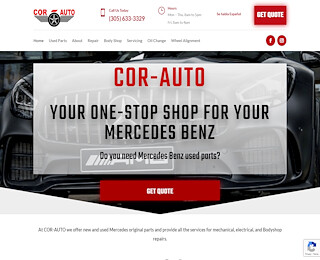 Mercedes Benz has a strong likening with old money and absolute luxury. Drivers looking for a prestigious addition to their garage will have good bets with an AMG purchase. Mercedes Benz was at the forefront of launching the first safety features like control, stability control, airbags, and honeycomb radiators.
It is, however, heartbreaking to buy a fast and well-performing car that will only last you a couple of years. Aside from the innovative edge of this brand, AMG aims to produce parts that will outlive your everyday car. People who bought new Mercedes cars will attest to their lifespans.
Unfortunately, there is nothing like a perfect car, no matter how close German vehicles get to the idealism. Some people choose to dispose of their cars at junkyards, for a fair monetary return. You can add life to your old Benz by purchasing original car parts from the best auto shops. This guide will give you a systematic guide of ensuring that you are buying ultimately performing Mercedes Benz used parts.
Where to get used Mercedes Benz used parts
Regardless of where you buy a used part, you must get parts which have a realistic value for their quote. It is for this reason that you should avoid buying car parts at car dealerships. The main advantage of buying parts at junkyards is the price value. We guarantee that you will get an original component at a reasonably low price that beats that of multiple sources.
Verifying the source of your product will also save you from the headache that comes with counterfeits. Individual sellers who disassemble parts may not have an accurate picture. They may also fail to give the correct specification.
Cor Auto is a long-standing business of car parts. We assure and deliver high standards with minimal re-dos on orders. Here is how you should make an order:
Navigate to our website's order portal.
Request a price quote on the product.
After getting the quote, contact us or call our line to make an order.
Our staff will guide you in the shipping details, which will use FedEx or USPS.
Know the identification of the component
Verifying the Vehicle Identification Number, also known as chassis number, will save you from making returns. Ask your mechanic to give you the correct one before making an order on the website. Alternatively, you can bring the part for inspection by one of our specialized Mercedes technicians.
Learn the part's history
You must make sure that you do not get a lemon replacement for a damaged car component. You may end up in a cycle of replacing car parts if you do not understand the history of what you want. Luckily, Cor Auto has clear indications of the years on a car part. Our database has accurate signs of the miles on an engine so that you will order with full knowledge of the expected performance.
Understand the return policy
Our car parts have an easy return policy. Do not get stuck with an ill-fitting component simply because you got the wrong specs.
Mercedes Benz Used Parts
We welcome your comments!
Location
4723 NW 37th Ave, Miami, FL 33142, USA.
Email
info@www.cor-auto.com
Open Hours
Mon: 8am - 5pm
Tue: 8am - 5pm
Wed: 8am - 5pm
Thur: 8am - 5pm
Fri: 8am - 4pm
Sat: Closed
Sun: Closed