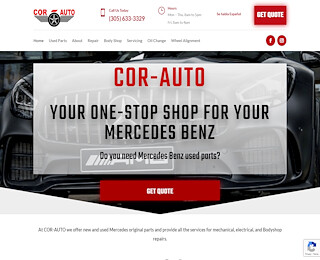 Mercedes is one of the most popular luxury vehicle brands in the world. Mercedes are expensive, and they hold their value better than many other types of vehicles. When your vehicle breaks down or requires repairs, you want to make sure that you use authentic parts from a Mercedes salvage yard. At Cor-Auto, we repair Mercedes, and we have a large selection of used Mercedes parts. We can help you get your vehicle back to perfect condition.
How Can I Find Used Mercedes Parts?
It can be challenging to locate the used parts that you need for the repair of your Mercedes. Your vehicle may last for many years, and the parts can be obsolete. The best place to find parts is at our Mercedes salvage yard. Here at Cor-Auto, we specialize in Mercedes parts and repair services. We have one of the largest selections of Mercedes parts in the country. We take care to clean and pack your parts before we ship them, so you can rest assured that they will always be in the best condition possible. We also provide a warranty, so if the part fails, you can return the item.
Benefits of Buying From Our Mercedes Salvage Yard
There are many benefits to buying Mercedes parts from Cor-Auto. We have the largest selection of used parts because we have a Mercedes salvage yard. We keep a complete inventory of the parts we have in stock. We clean all the parts before we ship them, and we test the motors. We provide a warranty on parts and a six-month warranty on engines with fewer than 75,000 miles. You can get instant access to quotes and order details online. Our knowledgeable staff is happy to answer any questions. We ship both locally and worldwide. If you live in Miami, we can provide the part by courier.   
How Many Parts Do You Have In Stock?
We have more than 500,000 parts in stock at our Mercedes salvage yard. We process incoming parts quickly using specialized control software. We almost always have the part that you need in stock. We can procure a part for you if we don't have one in stock. We use storage racks and spaces to ensure that the parts stay in good condition and that we can locate them easily when needed. With our inventory system, you can search online for a part to see if we have it in stock. We streamline the process so you can request a quote online.
About Cor-Auto
At Cor-Auto, we are dedicated to providing our customers with high-quality authentic used Mercedes parts and engines. We also offer repair services at our location in Miami. We have the most competitive prices on parts that you will find. Our team of experts knows the Mercedes brand, so we can answer your questions and help you purchase the parts that you need. We are always getting new inventory. You can check our website for parts inventory and current special discounts or deals.
We welcome your comments!
Location
4723 NW 37th Ave, Miami, FL 33142, USA.
Email
info@www.cor-auto.com
Open Hours
Mon: 8am - 5pm
Tue: 8am - 5pm
Wed: 8am - 5pm
Thur: 8am - 5pm
Fri: 8am - 4pm
Sat: Closed
Sun: Closed